Joined

Sep 16, 2009
Messages

2,922
Reaction score

343
Gender

Male
Political Leaning

Conservative
LABOUR'S legacy of degeneracy, religious murder, unchecked crime and victimised normal people are now everyday stories in local newspapers, particularly in towns like Reading which were abused by Labour's left-wing crackpots for so many years.
Flipping through my local paper, usually packed with such tales when I pick it up, I read more accounts of vicious vermin excused proper punishment - whilst coppers cower before them.
And the readers usually fume, as well we other abandoned ones may.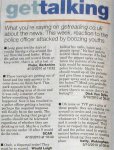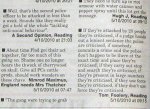 The foul alliance between liberal-leftists, 'do-gooder' lawyers and canny criminals has resulted in a system now so soft that surrender to thugs is now preferable to being disciplined for not doing so.
http://www.metro.co.uk/news/841795-we-ve-left-streets-free-for-yobs-police-admit
It's what they always wanted! Well, it must be - they gave it to us!