Green Party progressive
DP Veteran
Joined

Nov 4, 2020
Messages

25,003
Reaction score

4,576
Gender

Undisclosed
Political Leaning

Undisclosed
Can the USG stoke a hotter war and avoid the undetermined but likely deadly serious consequences of a hotter planet Earth? It's possible. But it's painfully obvious that the USG's priority is to invest in (using federal taxpayer funds and increasing the national debt) and work on increasing their global domination through military might rather than investing in and working on trying to save humanity from the consequences of industrialism further degrading and destroying Earth's damaged ecosystems. This highly emotionalized conflict has shown that the two governments that together have 90% of the human world's nuclear arsenal are stuck in the past and are threatening everyone's futures environmentally and with nuclear insanity. We're in the midst of a deadly global storm and the US and Russian governments are thumping their chests which are weighed down with nuclear suicide vests.
The US and Russian governments are like two gigantic cavemen with nuclear clubs and 'conventional' military might that are powered by massive amounts of fossil fuel burning that's quite possibly going to lead to a different meaning for the phrase 'scorched-Earth policy.'
Cold War + militarism => massive amounts of fossil fuels burned + the threat of nuclear insanity => hotter planet Earth => more misery, and it could result in humanity's demise.
USG foreign policy => scorched-Earth policy
Russian government foreign policy => scorched-Earth policy
Which is bigger? USG militarism is obviously MUCH bigger than Russian militarism. And they have the gall to call it "defense."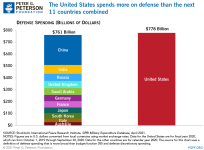 Last edited: