If you're thinking about buying an ASUS product, I implore you to think again.
Last October, my brother and I bought an ASUS table for my mother on her birthday. We went to Best Buy with the idea of getting her a Samsung or ipad, but the salesperson insisted that we look at the ASUS Transformer tablet. It seemed great, and, according to the sales clerk, was the best tablet on the market. Furthermore, it was cheaper than the other brands, so we were pleased walking out of the store!
The euphoria didn't last long however. Not long after my mom got it, a rather large spidery cracked formed on the top left-hand side of the tablet. My mother claimed that it happened from the pressure of her thumb when pulling it out the recharger. For a few weeks, she kept quiet about it out of embarrassment, as she felt she was at fault.
When she finally told me, I though it peculiar that it cracked so easily. I have an ipad2 that ended up being none worse for wear after accidentally dropping it a few times. I can image that at some point or another, most people will experience some form of accident, especially considering that these tablets are fairly small and light. So, in essence, one would think that most companies would develop tablets that are fairly strong and durable. In fact, ASUS boasts that their screens are made with Corning Gorilla Glass. After viewing the promotional youtube video of this product (
How tough is Corning® Gorilla® Glass 2? Corning puts it to the test. - YouTube
), one is left with the impression that even Superman would have problems shattering the stuff. But alas, there we were with a useless, almost new, broken-screened tablet.
After doing some searching about the product on the internet, I felt a glimmer of hope that we could get the product repaired at no cost. See, according to numerous people on various sites, it appears that there was defect in the tablet, specifically in serial numbers which completely fell in line with the one purchased for my mother. Seems the cracks always formed in the top left-hand side of the defective tablets. So playing that new found angle, I contacted the company with strong hopes.
I was advised to fill out a form describing the damage and to package it up and mail it to a repair office in Texas. I was told that they would determine how the damage was done and get back to me. So I placed the tablet in its original box, wrapped it in bubble wrap, and place it in a much bigger box filled with Styrofoam peanuts. Cost for shipping? $30. Steep but worth it, I naively thought.
Three weeks pass and I heard nothing. Zip. Nada. Then, in the middle of February, while on vacation on London, I received an email from an ASUS repair department in …drumroll please… Markham, Ontario. WTH? According to their 'experts,' it turns out the cracked glass was my mother's fault. To make matters worse, there was a problem with the casing too. I don't remember that issue, so I asked for reference photos as well as an answer to why I was dealing with someone less than 500 kms away instead of Texas, where the tablet was originally shipped. Aside from an apology for the shipping mistake, this is what I got:
Photo #1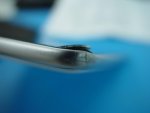 Huh? That does not look familiar at all.
Photo #2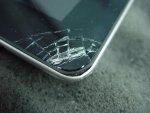 WTF? Now I know for sure this is wrong. Did they get my mom's tablet mixed up with another?
Photo #3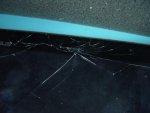 I guess not, as I do recognize this, though the damage looks worse. Jeepers, what in the heck happened to it???
I was then told I had 48 hours to inform them what I wanted done. I had to wait almost a month, big deal, but golly-geez-darn, a big deadline was slapped on little ole me! Being in London, with another 5 days to go, I was put in a pickle to say the least. Luckily, because of the extra damage (that sounds kind of weird, doesn't it?), they decided to give me some extra time and wait until I got home. "How very kind," I sarcastically muttered to myself.
I was hoping I had been careful enough to have taken some photos of the tablet before sending (I honestly could not remember). Unfortunately, I did not. I searched my camera and computer valiantly, to no avail. I did, however, have a copy of the write-up (a description of the damage, in my words) that I had included in the sent original package. Nowhere did I mention the damage to the bottom right-hand side.
"How did it happen?" I thought to myself.
The way I had packaged the box in the original delivery, there was no way any further damage happened on its way to Texas. Even if the UPS guys decided to use it as a football and spike it after every touchdown, that tablet was going to be safe from further harm. So, it either happened at the Texas office, when it was re-shipped to Markham, or, in Markham.
When I brought it up to the customer representative in Markham when I got back to Canadian soil, she claimed she didn't know anything about the extra damage. She then abruptly asked me if I was willing to go ahead with the almost $300 repair cost. I asked if they were willing to take responsibility for at least half of the damage (because of the defect, I was hoping for all, but at that point, I was willing to negotiate). She said she'd talk to her manager.
She got back to me the next day and said they were willing to knock off $7, the cost of the new casing. What a joke. So I told them I was not happy and extremely unhappy with the way everything was handled.
"Ship it back to me, unrepaired," I told her.
So now, I have this useless tablet still sitting in the packaging. It was like I took $450 bucks and flushed it down a toilet. After speaking to a few IT people at work, they opined that ASUS has traditionally made substandard products. Sigh… I wish I would have consulted with them beforehand, but at least I know now to never buy any of their products again. And I will make damn sure my family/friends/colleagues know too.