Joined

Aug 26, 2007
Messages

49,963
Reaction score

19,071
Location
Gender

Female
Political Leaning

Conservative
Aiight, I'm making some seafood gumbo. It's a different style then I normally do it, you'll see as it goes on, but the basics are the same. I didn't feel like making a rue and and all that so I cheated today
It's not that much different in terms of end product. So without further adieu here is he start of meal, I let my Gumbo cook over a long period of time.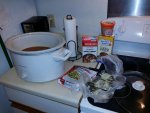 I use two boxes of the Zatarans Gumbo base, and two boxes fo unsalted chicken stock. That's a 12 quart crock pot btw. Also some gumbo veggies, a can of lump crab meat and three blue crabs cleaned for gumbo action. I mix the base into the stock and then turn to the next step.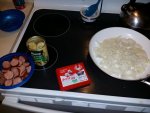 '
Yeah, that's a cermaic frying pan. Never used it before, should be fun. I use two cubes of garlic for this, just to give it flavor. You might be asking what's that sausage? It's Andouille. One large onion and yes, artichoke heart. I like the brine that it brings to the meal. I used 3 tbls of butter and a tbls of oil to cook the veggies.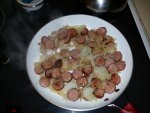 After I put the onion and sausage in the mix I then cook the artichoke so it's got some brown on it then add to the mix. Finally, veggies.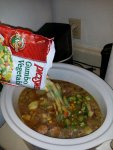 More as I add it, probably 4-5 hours from now. Today is going to see Alaskan Cod (the red snapper was 22 bucks a pound and looked like ****e) one lobster tail, 1 pound of gulf shrimp and 2 calamari steaks.
It should be most interesting.