Joined

Feb 4, 2013
Messages

28,659
Reaction score

18,803
Location
Gender

Male
Political Leaning

Very Conservative
How do you generally conduct yourself in video games where issues of "morality" are concerned? Do you walk the "straight and narrow," or could your play style best be described as being that of a sociopathic man-child?
I ask because I just started playing
Dishonored
recently, and I found myself having serious misgivings about a lot of the actions the game wanted me to perform. For instance, the hordes of guards the game gives you option to mercilessly slaughter aren't really "villains" per se. They're little more than common city watchmen simply doing their jobs.
This got me to thinking about "videogame morality" in general.
In most RPGs which present "moral choices" for the player, I am pretty much as squeaky clean as you could imagine (my rampant kleptomania in games like Skyrim not withstanding :mrgreen: ).
When it comes to strategy games, however; I notice that I generally tend to play like the bastard spawn of Adolf Hitler and some genocidal African warlord.
I'll sacrifice my loyal soldiers and execute captured enemy combatants by the thousands before casually putting entire cities to the sword in games like Total War. The same goes for the use of "planet busting" weapons in space based strategy games.
Hell! My default mode of operation
on a good day
of playing Crusader Kings 2 would basically make me a monster to rival the evil English King from Braveheart in even his worst moments. :lol: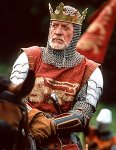 What about you, good people of DP? Do you generally walk the path of the "Dark Side" for fun, or is your's a more pragmatic and impersonal sort of villainy, like my own?
Last edited: