Capitalist Pig
DP Veteran
Joined

Aug 6, 2019
Messages

14,422
Reaction score

6,549
Location
Gender

Male
Political Leaning

Libertarian - Right
Consider this: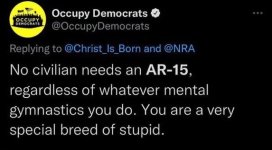 I think that is typical of how modern progressives view gun ownership.
But with Russia invading the Ukraine, now it seems the same people have changed their position: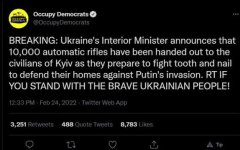 They are against civilians in the US owning guns, but they wholeheartedly support rifles being handed out like candy in the Ukraine.
One response from progressives might be that this is war, and it's not intellectually inconsistent to want civilians armed during war but disarmed during peacetime. This response doesn't work for at least two reasons:
1. You can't just throw guns at people and expect them to be instantly proficient using them. It takes a lot of time and practice to become competent with firearms. Gun safety alone requires a degree of mental discipline that only comes from repetition and practice.
2. The Russia/Ukraine situation is one state invading another, but history is replete with examples where states murder the very people they rule over. If you agree that civilians should have guns to fight against a hostile state, then it's silly to say they shouldn't have guns if the hostile state trying to kill them is their own government.