Computer Gaming Nerd
DP Veteran
Joined

Feb 24, 2013
Messages

32,325
Reaction score

17,252
Gender

Undisclosed
Political Leaning

Conservative
Years ago Steve McIntyre, among his many critiques of the abysmal statistical work by the "Hockey Team" that have held up to scrutiny, did a series of critiques on the Briffa2008 proxy climate model that used tree rings as it's primary measure of temperature.
In that critique McIntyre showed that a single tree in the entire Yamal dataset was responsible for the model's pronounce 20th century warming trend. He called it "The most important tree in the world".
Here is the analysis by McIntyre of the data set with and without that one tree: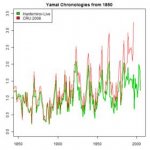 Gavin Schmidt of RealClimate, who worked on the Briffa reconstructions

took to the pages of RealClimate

to assure everyone that McIntyre was full of crap and assured the faithful that they were hard at work on another reconstruction that would show McIntyre was wrong:

The irony is of course that the demonstration that a regional reconstruction is valid takes effort, and needs to be properly documented. That requires a paper in the technical literature and the only way for Briffa et al to now defend themselves against McIntyre's accusations is to publish that paper (

which one can guarantee will have different results to what McIntyre has thrown together)

.

Well, to Schmidt's credit, Briffa2013 has been released and... it looks a lot like McIntyre's "thrown together" recontruction: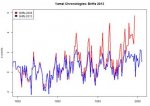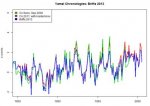 (From
Here
and
Here
)
Chalk another one up to Skepticism!