Salty, defiant, and completely non-compliant.
DP Veteran
Joined

Jul 27, 2011
Messages

48,077
Reaction score

35,352
Location
Gender

Female
Political Leaning

Independent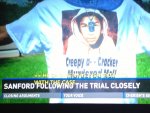 A pastor in Sanford, Florida, has had t-shirts made up. He embellished a bit, of course - by adding "Murdered Me" after the "Creepy Ass Cracker" comment. The ironic part of this? He "said" he was doing it as a way to deal with the racial divide head on. Now how, exactly, is this going to "help heal the racial divide" by making up a t-shirt calling someone a cracker? While "cracker" doesn't hold the negative connotations that the "n" word does, it's still a racial slur. What would happen in Sanford if someone came up wearing a t-shirt that called someone a "creepy ass n-word"? This makes me so angry. I am so tired of people jumping on their soap box, calling for racial unity, when in all actuality, he is either (1) doing this to
further
the divide (my idea) or (2) doing this to sell t-shirts (Hub's idea). Sorry, /rant off. I swear, there will never, ever be an end to racism. Ever. We can say all we want that this country will eventually get past it, but honestly? We won't. It will be this way from now on.