Joined

May 8, 2012
Messages

9,570
Reaction score

1,493
Gender

Male
Political Leaning

Socialist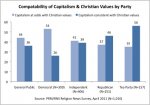 Survey | Plurality of Americans believe capitalism at odds with Christian values
This is from 2 years back, but still.
You put decades and decades of propaganda starting in the 1920s, trying to priase Capitalism, and make Capitalism the "godly" religion, yet thankfully most Americans are more bible literate than the ruling class would like.
Capitalism is at Odds with Christian values, and even those in a US, a country that has made Capitalism the top Idol and pofit the top God, and have pounded that through decades of propaganda, most people still understand christian values.