Supporting Member
DP Veteran
Monthly Donator
Joined

Dec 3, 2017
Messages

22,905
Reaction score

13,525
Gender

Male
Political Leaning

Progressive
https://www.reuters.com/article/us-...ges-colorado-mineral-rights-law-idUSKCN1PH2WC
HOUSTON (Reuters) - A Colorado activist group this week filed a lawsuit challenging a state law that allows oil and gas companies to drill a property owner's minerals without consent of the owner.
The move is the latest effort by environmental activists to tighten drilling regulations in the fifth largest oil producing state in the United States.
================================================================================
In states where I've owned homes, the usual verbiage on the deed states that the mineral rights are not included with the property. I haven't looked at the law on this in my state or other states where this has become an issue, such as CO.
Minerals would include oil & natural gas.
In my state (PA) the big prize is the Marcellus Shale, which is a rich source of natural gas via hydraulic fracturing. Luckily, the map showing the extent of this shale deposit doesn't come anywhere near my location.
From the Internet:
Unless you also own the minerals under your land, that someone might have every right to start drilling. In the United States, mineral rights can be sold or conveyed separately from property rights. As a result, owning a piece of land does not necessarily mean you also own the rights to the minerals beneath it.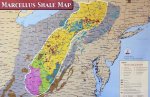 Last edited: