What is the class-breakdown income-wise of American households?

First, a definition from WikiP:
The American middle class is a social class in the United States. While the concept is typically ambiguous in popular opinion and common language use, contemporary social scientists have put forward several more or less congruent theories on the American middle class. Depending on the class model used, the middle class constitutes anywhere from 25% to 66% of households.

But there is still a controversy about that definition, so read the rest of the article here.

Note nonetheless, this warning here:
Household income

figures, however, do not always reflect class status and

standard of living

, as they are largely influenced by the number of

income earners

and fail to recognize household size. It is therefore possible for a large, dual-earner, lower middle class household to out-earn a small, one-earner, upper middle class household.

Which means what? That we do comparative assessments not based upon individual income but dual-parent income - because as more women attain higher levels of education and thus income-status, the notion of "household" becomes more important than individual.

Here's yet another way to look at the Income Pie (data-wise, 2010), Source: Percentage of population by Income Group (WikiPedia):





Categorizing households

as Lower-Middle-Upper Classes (Yearly Income, Census Bureau):
-Lowest-Class (up to $25K, which is the Poverty Threshold) - 28%
-Upper Lower-Class (25K$ to $50K*) - 23%
-Middle-Class (50K to $100K) - 29%
-Upper-Class (Beyond $100K) - 17%

So, our Lower-Class of households/families constitute more than half of the total? And our Middle and Upper-Class together are just a bit less than half of the total**?

WOW ... !

*$54K is the national median income in the US
**Which corresponds with the economist Thomas Piketty, who presents this Income infographic: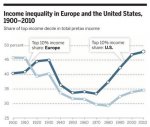 Caveat: The above WikiPedia infographic is an analysis based upon Census Bureau interviews of families. Other studies have shown similar but not the same numbers.
________________
Last edited: