Now I will write a lot. And so, perhaps, through the electronic translator is not very clear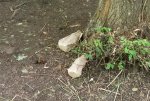 As far as I know, the US is often customary to drink alcohol in public places by wrapping it in paper or by placing in the package. As I understand it, this is due to the fact that the package — private property. Search person police without a warrant cannot. Therefore, there is no evidence that the person consumes alcohol.
In Russia the police have no such prohibition. And police has the right to demand inspection of things suspicious person without a warrant (although in the presence of witnesses). Therefore, from the point of view of law, the placement of the bottles in the package does not help.
However, people are watching American films, put bottles in bags. Because so decided.
This is pure
cargo cult