Joined

May 22, 2017
Messages

4,098
Reaction score

1,991
Location
Gender

Male
Political Leaning

Centrist
I recently acquired this old book as on my bucket list before i drop dead, or get shot by a jealous husband, is to retrace the steps Dr. Livingstone took in his travels in Africa. Using original old books and maps is the best way.
That brings us to this old book. In the blank protective page it says in very beautiful quilled handwriting...
D. McAffee
Merry Christmas
From
Your "Wife"..(two periods)
Dec 25th
1873
The writing is very easy to read and is stunning and looks like calligraphy.
Now, why put the word wife in quotes.
(putting on my Sherlock Holmes cap)
1. Could it be it was a woman who was his mistress that gave him the book for Christmas, 1873
or
2. Could it be a gay lover who gave him the book in Christmas 1873.
or
3. Could it just be a real close female friend who gave him the book and so many people mistook them as husband and wife, they started jokingly calling themselves that.
Either way, I was taken aback at how beautiful the writing was, and I get the sense it was written with true fondness for the person who received the book.
Something beautiful from the past we may never know the real answer for, but merely revel in the simple beauty of it.
What say you, fellow DP members? Give me your theories as to why the word WIFE was put in quotes.
My immediate, but possibly flawed assumption would be a mistress as the writing does looks feminine, but then i have to remind myself, back in those days most writing was this beautiful and people took pains over may years to make it look this way. A skill only master calligraphers can do today.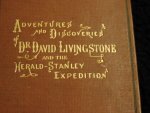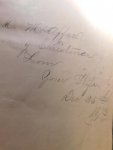 Last edited: