Putin = War Criminal
DP Veteran
Joined

Apr 18, 2013
Messages

83,121
Reaction score

68,061
Location
Gender

Male
Political Leaning

Independent
$840M in gold bars prepared for loading onto Russian jet at Venezuelan airport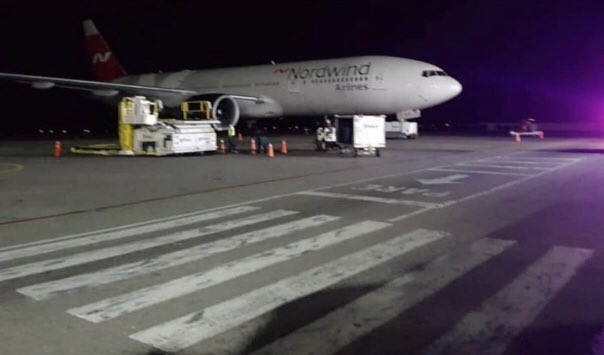 Russian Nordwind plane at the Simon Bolivar International Airport in Caracas.
1/29/19
About 20 tons of gold from Venezuela's central bank was ready to be hauled away Tuesday on a Russian airline's Boeing 777 that landed in Caracas a day earlier, a Venezuelan lawmaker wrote on Twitter. The destination of the $840 million in gold bars was unknown, but a source told Bloomberg News that it represented about 20 percent of the country's holding of the metal. The gold was set aside for loading, the report said. The news outlet, which first reported on the tweet, identified the lawmaker as Jose Guerra. The lawmaker did not provide evidence for his claim but is identified in the report as a former economist at the country's central bank with close ties to workers still there. Noticias Venezuela, a news outlet in the country, posted a photo of what it identified as a Nordwind Airlines plane from Moscow that made the trip with only a crew aboard.

A plane belonging to a Moscow-based company was reportedly seen Monday heading to an international airport near Caracas, according to flight tracking records. Reuters reported that there had been speculation about the jet that was "parked by a private corner of the airport." And Reuters reported that it was the first time the plane made the trip. Russia, one of President Nicolas Maduro's staunchest supporters, is reportedly owed billions by the Latin American nation. Russia has said it expects Venezuela to have problems repaying debt ahead of an upcoming payment on a Russian loan. Venezuela is treading in the uncharted political waters after opposition leader Juan Guaido declared himself interim head of state last week in a direct challenge to Maduro's reign. The 35-year-old head of the opposition-led national assembly has the backing of more than a dozen mostly western nations including the United States, Canada and several members of the European Union.
Two probable scenarios. 1) Russia is simply taking the money owed by the Maduro government for loans. 2) With US intervention possible, Maduro and his loyal generals are beginning to loot the Venezuelan treasury ahead of regime change.
Related:
Did a Russian Plane Take Off With Venezuela's Gold?
Is Venezuela's 20-Ton Pile of Gold About to Head to Dubai?