Joined

Oct 25, 2016
Messages

851
Reaction score

245
Gender

Undisclosed
Political Leaning

Undisclosed
- Non-profit get out the vote funding is not illegal, as long as it is not biased to any party or candidate
- Ready? $33 million of Zuckerberg's $250M to CTCL went to just 3% of the US population, tightly concentrated in 4 swing states, in areas where Hillary won by an average of 80%. That is 13% of grants to 3% of the population
- Per-voter dollars in these areas was as much as $30 - $53 per voter. All other jurisdictions were a few bucks per voter.
Bottom line, Zuckerbucks broke the law.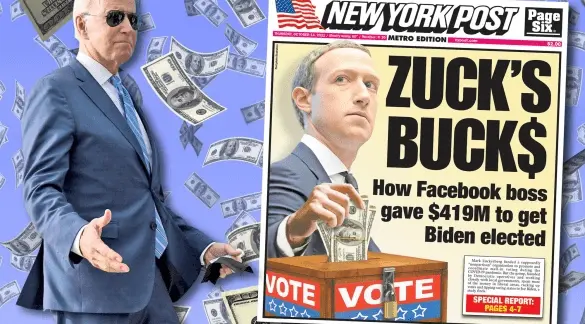 "The law on non-profits, such as the Chan-Zuckerberg Foundation, engaging in "get out the vote" activism is clear.
IRS.gov
:
"Under the Internal Revenue Code, all section 501(c)(3) organizations are absolutely prohibited from directly or indirectly participating in, or intervening in, any political campaign on behalf of (or in opposition to) any candidate for elective public office…voter education or registration activities with evidence of bias that (a) would favor one candidate over another; (b) oppose a candidate in some manner; or (c) have the effect of favoring a candidate or group of candidates, will constitute prohibited participation or intervention."
This means it is not against the law to donate to activities which increase voter turnout, as long as they do not favor any one candidate.
As many
states move to ban
all private donations to public election departments, fall-out from the new 2020 election documentary "2000 Mules" continues to grow. A simple calculation shows that, contrary to the letter and spirit of the law, Facebook CEO Mark Zuckerberg funneled a disproportionate share of the $250 million he gave to Center for Tech and Civic Life (CTCL), to cities in five swing states which averaged 78.5% for Clinton in 2016.
The data was collected by the
Minnesota Voters Alliance
, the plaintiff in a lawsuit against CTCL in 2020. The case, and others like it,
was dismissed
by multiple Wisconsin Judges.
Zuckerberg was sued by citizens in 2020 forwhat they said were illegal donations in swing states, but the possible end use of those funds, to have ballot drop boxes in place which could be stuffed, is shown only now with the release of
"2000 Mules."
Specifically, court documents taking data directly from CTCL show that, although the left-leaning non-profit gave money to election departments in all 50 states, including red states and counties, it vastly turned up the dial in eleven cities and three counties in Michigan, Wisconsin, Pennsylvania, Minnesota, and Georgia.
With just 3% of the US population in total, $33 million, or 13% of the $250 million Chan-Zuckerberg gave to CTCL, went to these critical populations where "2000 Mules" now shows shady drop box activity was heavy.
Source below: Amounts given by Zuckerberg through CTCL conduit to key swing states. Minnesota Voters Alliance vs. City of Minneapolis, Complaint
In a
rebuttal to what it called "frivolous"
lawsuits against it concerning Zuckerberg funds given to some Wisconsin cities, CTCL argued that it had distributed funds for it's "COVID-19 Response Grant Program" across all 50 states in both Democrat and Republican leaning jurisdictions.
However, the data shows that the spigot was not turned on evenly everywhere. It was fairly gushing in a few states, in certain localities where Hillary Clinton had won in 2016 by an average of 78.5%..."
FULL ARTICLE